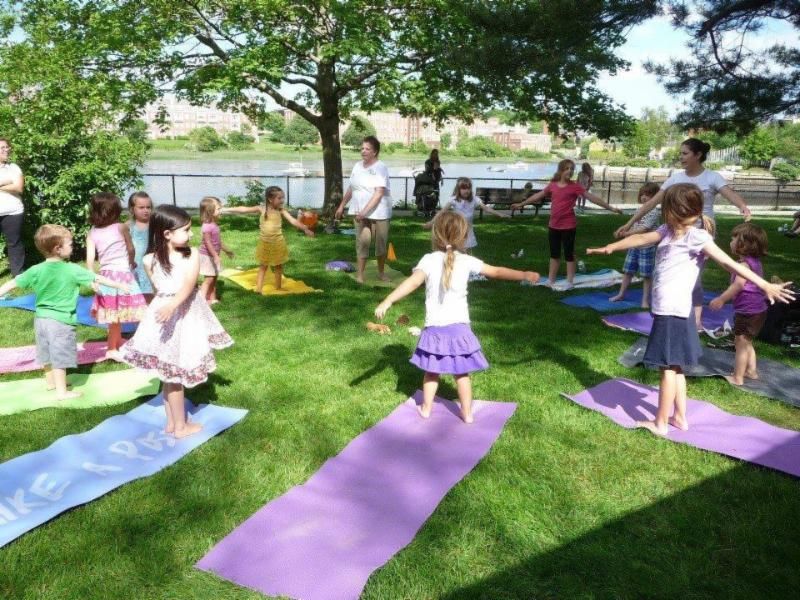 By: Alicia Rossman RD, LD, E-RYT and owner of Let's Get Movin'!
Children and teens are experiencing more stress, anxiety, depression and challenges than ever before. Research shows incorporating yoga can help to lessen this stress and at the same time improve test scores among children. With a focus on the body as a whole, yoga goes beyond just movement by teaching breathing techniques that both calm and energize. When kids are able to approach academics without stress their chances of success skyrocket.
Yoga and mindfulness helps encourage children to be compassionate and kind and builds a sense of community that extends outside of the classroom by teaching relaxation while simultaneously stretching and strengthening the mind and body. The pressures of academics, athletics, and busy lifestyles that children face can be extremely overwhelming. As a children's yoga teacher I see children struggling, both physically and mentally each day, with their own battles. In addition, some students are burdened with family issues. Often, yoga poses are incorporated with music and positive statements to help build self-confidence.
Yoga in Schools
Over the past 10 years, schools have begun to offer mindfulness based classes before, during and/or after school. Some schools have even hired yoga teachers and mindfulness directors as a part of their health and wellness initiative.
With standardized testing and academic pressures, children have increased stress. "Studies show that exercise facilitates children's executive function (i.e., processes required to select, organize, and properly initiate goal-directed actions) by increasing activation in the prefrontal cortex and serotonergic system. Because of the integration of physical movement with breathing exercises and mental focus practice, yoga may prove to be an ideal form of exercise to enhance those aspects of children's mental functioning central to cognitive development. The studies also illustrate that centered, calm and focused children learn more easily, have better social skills and, in general, are much happier kids." (Yoga4Classrooms) For more information and a complete PDF list of peer reviewed research, articles, books and websites visit: http://www.yoga4classrooms.com/supporting-research
Yoga for Athletes and the Non-Competitive
Breathing techniques are taught to help with anxiety, stress and relaxation. Yoga is a wonderful addition to or an alternative for other physical activities. It is suitable for all children and is a non-competitive way to move the body. For children who may not be into sports this is a wonderful form of exercise. Some children don't like the pressure of competitive sports or even gym for that matter. With childhood obesity on the rise exercise among children is crucial, not only for optimal health but for decreasing chronic disease and increasing quality of life. The recommendation for children is one hour of exercise per day. Yoga is a perfect form of exercise for children who don't enjoy organized sports. On the other hand athletes receive huge benefits from yoga thanks to the stretching of muscles, which helps to prevent injury.
A recent article written for Seacoast Online by Suzanna Vicinus stated this "Academically speaking, some recent studies have said that practicing yoga can improve children's performance in school. By developing coping skills to self-regulate stress and enhance concentration, kids are able to focus more acutely over longer periods of time."
Lets Get Movin'!
As the owner of Let's Get Movin'! Yoga and Nutrition program I am glad to offer classes and summer Exploration Camps in the Seacoast Community with my partner Cheryl Rossman – Registered yoga teacher and children's yoga instructor. We go into day cares, pre-schools, elementary and high schools teaching yoga classes and nutrition education. We also run a summer camp called Exploration Camp offered through the Exeter Recreation Department. Our classes touch upon nutrition education, healthy eating, lifestyle choices, behavior choices, self-discipline, self-respect, self-reliance, teamwork and communication skills to name a few. Our classes teach proper alignment for sitting and standing to avoid the long term effects of the computer and texting slump!
We are passionate about yoga and are excited to share all the benefits it has to offer with the children of the Seacoast community.