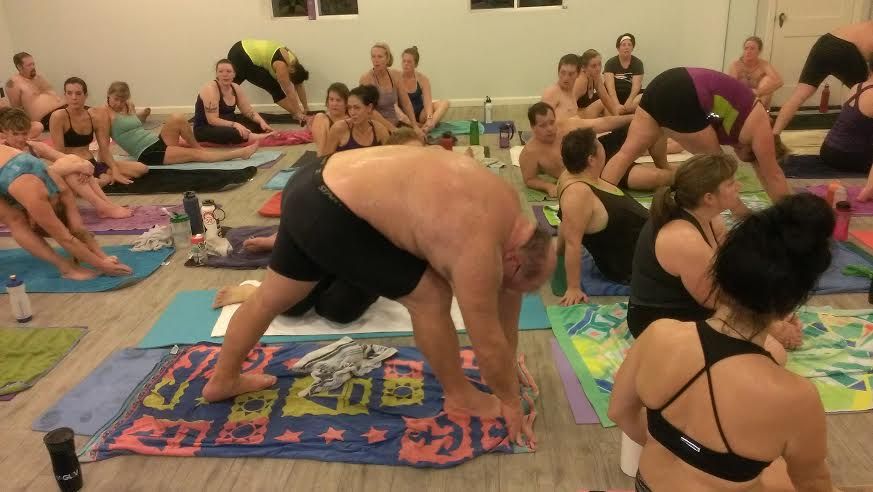 In our country, over one-third of our population is clinically obese. Obesity is the leading cause of preventable death in the United States. The endemic nature of obesity means it has deep roots for us culturally. To address obesity, we need to make a cultural shift.
Group movement and mindfulness classes have shown tremendous potential to address obesity-related illnesses and concerns like high blood pressure, diabetes, heart disease, binge-eating, depression, anxiety and more. Yet it is the group itself that can be the first barrier to an individual with obesity from participating in yoga classes.
I was inspired to reach out to individuals with high BMIs in our communities by the transformation I saw in my own sister, Gina, as she developed her yoga practice. Seven years older than me, my sister was obese as long as I had known her. She was also depressed and suffered from anxiety. She hated herself and her body.
Over the course of her first year as a yogi, not only did she lose weight, but she began to control her anxiety, address her depression and became a woman who had hope and joy in her life. She became a new person to my eyes. As practitioners, we all know that feeling of self-love and acceptance that is waiting to be gained on the mat.
Bikram's Biggest Losers
Her transformation spawned the creation of the Bikram's Biggest Losers program (BBL) at my studio in Portsmouth, NH. The program combines unlimited yoga classes with group health coaching, accountability and community support to help participants find peace and balance in their lives.
Since 2012, Seacoast NH residents have lost over 1,200 pounds through this program. The benefits go far beyond weight loss. As a result of the program, countless students were able to:
• Come off blood pressure medications
• Regain bone mass
• Gain strength
• Return to activities they had given up on due to old age or physical conditions
• Developed connections with a supportive community that is there for them in yoga and without.
BBL season is one of my favorite times of the year because together we support and challenge each other to take risks, to practice self-care and to pursue our dreams: from finally reaching your heels in Camel to going for an interview for the job you really want.
I have helped over a dozen studio owners replicate this supportive model in yoga studios all over the United States and Canada. It is my dream to see programs like this in thousands of studios. When I graduated from yoga teacher training, my teacher said to our class, "I charge you with this Karma. Go all over the world and bring yoga. It is your duty."
The Last Frontier
Culturally, fat-shaming is one of the last frontiers of acceptable prejudice. Without intention, many yoga classes are either inaccessible or unwelcoming to individuals with a high BMI. As a former special educator, I believe strongly in inclusion and community. It is through strong community connections and relationships that we can all find meaning in life. It is our responsibility as yoga teachers to educate ourselves so we can teach classes that are accessible and inclusive for students of all levels of experience and fitness so that we can be the guide to help one more student find self-love.
In the words of my sister, "Yoga is my home. It is exactly where I feel normal. It is where I fit in, not just with the other students, but with myself. With my face, my body and my postures being exactly where they are supposed to be. I have achieved marriage between my body mind and spirit. The yoga allows me to maintain that marriage, to maintain self-love, which ultimately pours over into the rest of my life. Finding the time and money to live the yoga life is so much easier than trying to maintain my sadness, depression and negativity. Today, when I look in the mirror and ask myself do you love me? The answer is always a resounding, "Yes, at last Gina, Yes!""
Read more about Gina's transformation on the mat. And join us for our upcoming Informational Sharing Session so you can learn how to make yoga classes accessible to people with obesity at your studio.