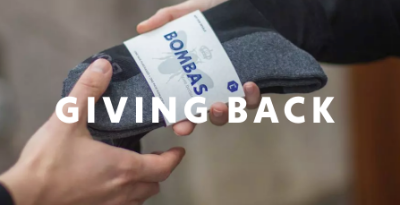 AT HOMELESS SHELTERS, NEW CLOTHING IS IN EXTREMELY HIGH DEMAND
This fact is the driving force behind Bombas. "We exist to help support the homeless community, and to bring awareness to an under-publicized problem in the United States. Bombas was founded on the philosophy of donating socks to those in need, but has evolved to go deeper into the community. The more clothing items we sell, the more we donate. As we grow, our giving and community efforts will continue to grow right alongside us. One purchased = one donated. Working closely with our giving partners, we donate clothing that meets the needs of people who don't have the luxury of putting on clean clothes every day."
At Yoga in Action, we have helped Bombas distribute over 2,500 pairs of socks in and around our community. Some of these include:
Cross Roads House
Homeless on Streets of Boston
Robert J Lister Academy
Krempels Center
Integrated Delivery Network Region 6
My Breast Cancer Support
My Friend's Place
Dover Middle School-Oasis Program
Tri City Co-op
Community Action
Homeless in Rochester Schools
Operation Blessing
2 local Soup Kitchens
Families First
NH Harm Reduction Coalition
Lamprey Health Center
End 68 Hours of Hunger
Dover Food Pantry
Quaker Meeting House
If you know of a person or organization in need, please don't hesitate to reach out by e-mailing Rochelle @ rochelle.jewell@yogainaction.org today!