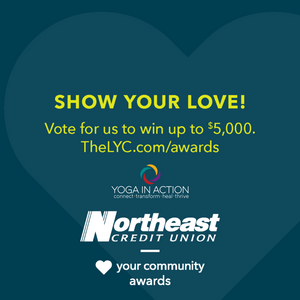 Love Your Community Awards
Love Your Community Awards
by Northeast Credit Union
To help nonprofits and the community keep doing all the good being done, Northeast Credit Union will award $120,000 in assistance to local nonprofits now through November. And we get to help decide who wins. Here's how it works. Starting on the 15th of July, the community will have an opportunity to vote for Yoga in Action from a list of non-profits. One vote per person. From now until July 31st, you have a chance to rally more supporters and followers to cast their votes on thelyc.com during these two weeks. 
We could win up to $5,000!
The best part - it's SO simple. Click here, scroll to Yoga in Action, enter your e-mail and cast your vote! It takes less than a minute.
"The Love Your Community Project is a kindness movement dedicated to encouraging people to practice kindness in their everyday lives. Here, we share stories of kindness, offer ideas for doing good, and create connections for those looking to give back. We are proud to be a part of something bigger than ourselves, united by one common goal: bringing people together."
Thank you in advance for your support.