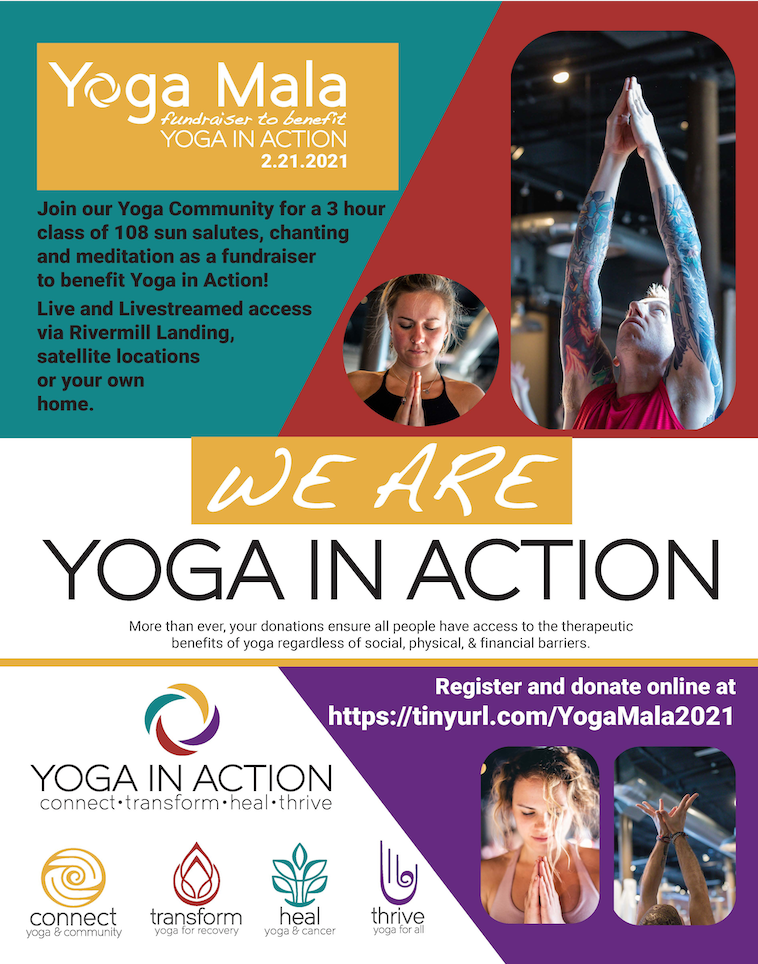 Yoga Mala 2021
Date: Sunday, February 21st, 2021 
Time: 9:00am-12:00pm 
Place: Livestreamed from Rivermill Landing and Satellite locations.  
Join in person or from the comfort of your home!
Sign up here!

The Yoga Mala is an uplifting celebration of community spirit. Since 2009, the Seacoast yoga community has come together annually in this joyful fundraising event. This three-hour yoga session is a taught by area teachers and includes 108 Sun Salutes, chanting, and meditation. Open to all levels of yoga students, chairs are provided upon request so all may participate.  
Thank you to the thousands of yogis, present and past, and all additional donors for their efforts to support Yoga in Action's mission to increase access to therapeutic yoga for at-risk and vulnerable populations in our Seacoast community. We envision a future where all members of our community have access to the profound therapeutic potential of yoga regardless of social, physical, and financial barriers.
Yoga in Action offers many specialized free or donation based yoga classes per week by both funding classes and supporting teachers who work with underserved populations. Yoga in Action's  yoga programs help promote resilience in our community by supporting youth at risk, individuals living with cancer, trauma survivors, people in recovery from substance use disorders, the incarcerated and more.  
Email seacoastyogamala@gmail.com for questions about 2021 in kind donations and sponsorships!
Thank you to all of our previous sponsors for helping highlight the power of community!
Event Sponsors:
Rivermill Landing
The White Apron
White Heron Tea
New England Printing
Anthony Riso Photography
HM Collins Photography
Emily Katherine Photography
Gold Sponsors ($5000+ level supporter)
Silver Sponsors ($1500+ level supporter)
Bronze Sponsors ($500+ level supporter)
Shilo Farm
Shaheen & Gordon Attorneys at Law
Partners ($250+ level supporter)
New Hampshire Lawyers Assistance
Kennebunk Savings Bank
Portsmouth Jewelers
Yoga NH
Back to Health Chiropractic 
Bottomline Technologies
Annual Laney & Lu Tumeric Latte Promotion:  12/26-2/9  $1 for each latte sold donated to Yoga Mala!
Prize Donors:
Shilo Farm, Ali Ambrogio, Dick's Sporting Goods, puravida, Boston Bruins, Aroma Joe's, Stock & Spice, Laney & Lu, Sebasco Harbor Hotel, Great NH Restaurants, Storyland, 4ocean, Nature's Path, Cross Insurance Arena/Maine Mariners, Portsmouth Music Hall, Sashka Co. Bracelets, Soraya Yamaguchi, Red Sox, Bowl-O-Rama, Seacoast Repertory Theatre, Thirsty Moose, Flower Kiosk, Flote, Elements Massage, Halfmoon Yoga Products, B yoga, Liquid I.V., York's Wild Kingdom, Green Elephant, Grove Collective, Lindt, Gina DellaPasqua, Hampton Natural Foods, Barre & Soul, Coyote River Hemp Co., Inner Truth Massage, Wachusett Mountain, Portsmouth Jewelers, Inner Presence Healing, Nadeau's Subs, Bob's Clam Hut, Just Doo It Hair Salon, Beckah's Bangin' Butter, Sarah Oleson Yoga, Life is Good, Portsmouth Soap Company, Muse Boutique, Cure Hydration, A Drop of Om, Foxwoods, KOAN Wellness, Adelle's, JetBlue, C&J Bus Lines, Water Country, Poco's, Vernon Family Farm, Rochelle L'Italien, Sara Curry, Sam Jewell, Gundalow Company, BARE, Seacoast Rejuvenation Center, Lil's Cafe, Rolling Green Nursery, I Like That, Trisha Donohue, Tina Trevino, Anna Shultz, Jill Capobianco