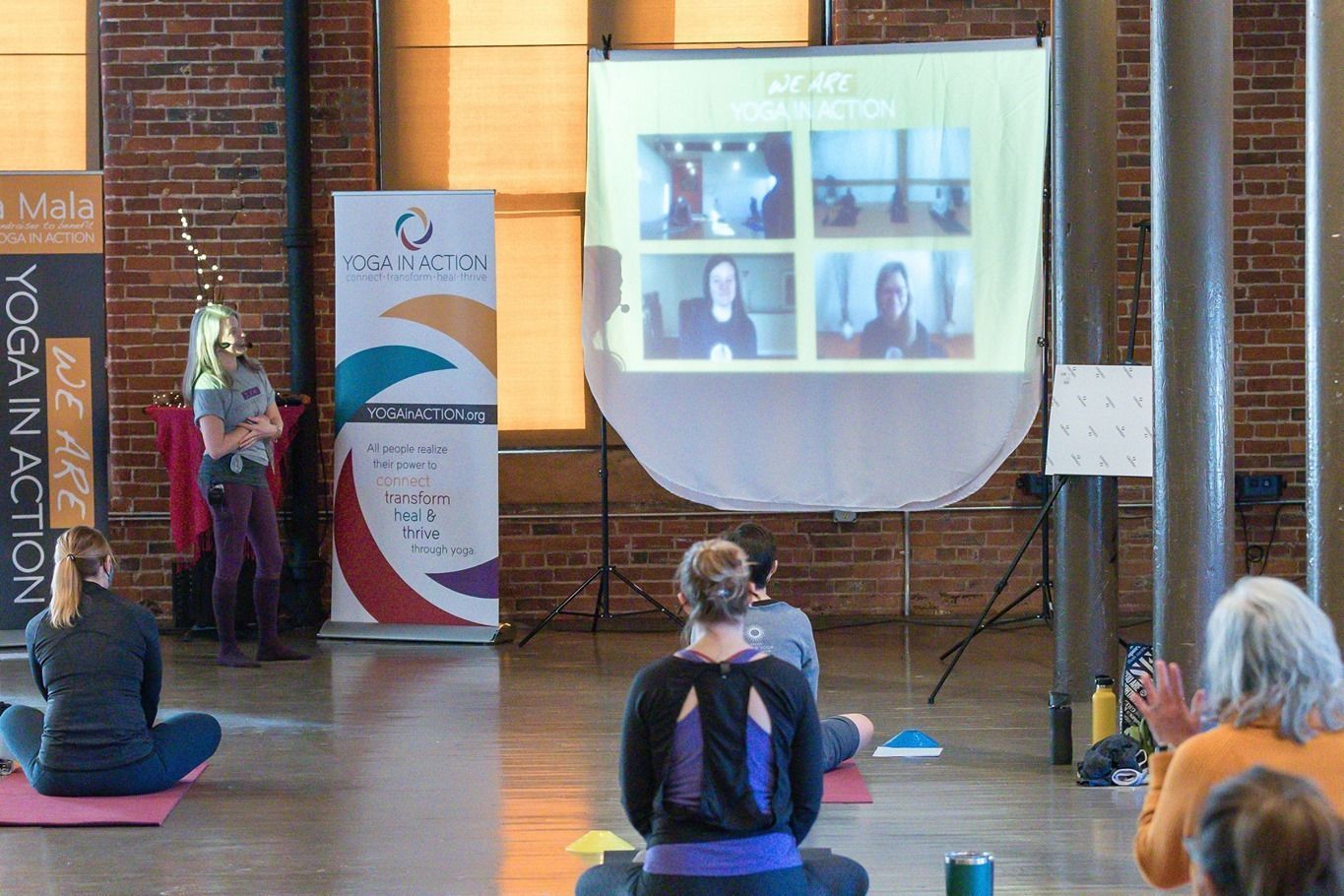 Yoga Mala 2022 - Sunday, February 20th @ Rivermill Landing Dover, NH
Today we rest in gratitude at the close of our annual Yoga Mala fundraiser. Thank you to everyone who joined us on their mats, in person or virtually, who did the hard work of practicing with us and reaching out to their friends and family for donations. Thank you to our donors and sponsors who contributed financially. We are grateful for those who volunteered and offered in-kind services.  And many thanks to those who attend our classes, share kind words and cheer us on when things get hard.  The Yoga Mala is a tremendous group effort and your many gifts, whether large or small, contribute to its success.
Over $38,000 raised!  
Congratulations to our top 3 fundraisers:  Sam Jewell, Jen Sellwood and Venera Gattonini 

The Yoga Mala is an uplifting celebration of community spirit. Since 2009, the Seacoast yoga community has come together annually in this joyful fundraising event. This three-hour yoga session is a taught by area teachers and includes 108 Sun Salutes, chanting, and meditation. Open to all levels of yoga students, chairs are provided upon request so all may participate.  
Thank you to the thousands of yogis, present and past, and all additional donors for their efforts to support Yoga in Action's mission to increase access to therapeutic yoga for at-risk and vulnerable populations in our Seacoast community. We envision a future where all members of our community have access to the profound therapeutic potential of yoga regardless of social, physical, and financial barriers.
Yoga in Action offers many specialized free or donation based yoga classes per week by both funding classes and supporting teachers who work with underserved populations. Yoga in Action's  yoga programs help promote resilience in our community by supporting youth at risk, individuals living with cancer, trauma survivors, people in recovery from substance use disorders, the incarcerated and more.  
Thank you to all of our sponsors for helping highlight the power of community!
In-Kind Event Sponsors:
Rivermill Landing
HM Collins Photography
Granite Slates
Promotion Sponsors:
Financial Sponsors:

Heal Level $1500 +

Transform Level $500 +
Lamb, Peterson and Mann Advisory Group
MSDynamic World.com
ChildLight Education Company
Kennebunk Savings Bank
Forward Motion Events

Connect Level $250 +
Portsmouth Jewelers
Bottomline Technologies
Bangor Savings
Yoga 4 Classrooms
Back to Health Chiropractic
TMS Architects Interiors
2021 Raffle and Prize Donors:
ChildLight Education Company
Portsmouth Jewelers
Roots to Shine Yoga
Hello Lovely
Shilo Farm
Ankati Day